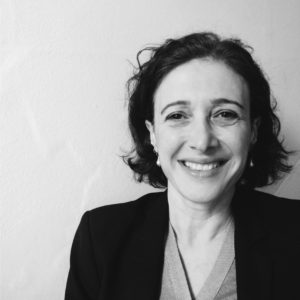 Marina Benjamin skriver i sin bok Mellantid om att fylla femtio, om åldrande, om kroppen. Det är skarpt, lärorikt och roligt. En bloggy om boken kommer. Tills dess får ni höra Marina själv.
Godmorgon Marina! Vad äter du till frukost?
Mostly toasted bread with peanut butter, or marmalade. But I'm fussy about it. The peanut butter has to be made with with salt, not sugar, and the bread has to be really good – like your Swedish bread – sourdough if possible. Also there has to be strong black coffee, enough for two cups.
Läser du helst morgontidningen eller en roman till frukosten?
Usually I read whatever novel I've got on the go for up to half an hour, then when I get up, I read my emails and my Twitter feed before turning to the news. With the world so off-kilter, and the news so unutterably depressing, these days I try to put off learning what new terrible things have happened for as long as possible.
Klokt. Så, en bra morgonroman, vad kan det vara?
The same books I always prefer. My tastes are unapologetically literary. I've just ordered a whole batch of books, so I've got a very tempting pile beside my bed: Han Kang's The White Book, Will Eaves' Murmurs, about the mathematician Alan Turing; a Swedish novel by Ebba Witt-Brattstrom, about her divorce, that is translated into English as Love/War and Ceridwen Dovey's In The Garden of Fugitives.
Bra blandning! Vad läser du just nu?
More than one book, as usual… I'm halfway through Will Eaves' Murmurs – a beautifully written novel that gets at the interior life of a rather solitary man – one who achieved fame for his 'calculating machine', effectively the first computer, but also notoriety for being homosexual at the wrong point in history: Turing was chemically castrated. I'm also reading Claudia Rankine's Citizen – an astonishing book that exposes the underlying racism of those who believe themselves not to be racists. I'm also reading various factual books as I start to think about what I will write next. My new book Insomnia very much belongs alongside Mellantid – they are a pair, both born of mid-life unravelling and reconstitution, and I am now planning a third book driven on the back of that same mid-life energy to make a trilogy.
Vad använder du som bokmärke?
Anything I can find. The bookseller's receipt, often. Sometimes a leather bookmark that I was given as a gift. But I like those sharp and functional plastic ones best of all; very no-nonsense.
En viktig avslutande boknördsfråga är förstås hur du sorterar böckerna i
hyllan?
Ah, now that depends on my mood. During a recent re-organisation (during which many boxes of books went off the the second-hand shop) I decided to bunch together books that I read as fuel for particular books that I've written. So as well as documenting my reading life, my book shelves now reveal my writing biography. There's a long shelf of books about the end of the world; another for books about the space age; another full of books about Iraq; another groaning with books about middle age, and a small shelf holding books about sleep. Now I am growing a new shelf. It will hold books about relationships and their problems. Can you guess what my next book will be?
Vi anar! Tusen tack för intervjun och ha en bra fortsättning på dagen.