Först läste vi Ormen i Essex och blev förtjusta. Sedan träffade vi författaren Sarah Perry och undrade hur vi skulle kunna få bli BFF med denna trevliga, roliga och klipska människa. Vi startade med en intervju.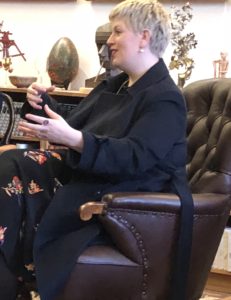 Hej Sarah! Vad äter du till frukost?
I don't often eat breakfast – I usually have a pot of strong black coffee and some sparkling water! But it has been very cold in the UK lately, so I have been having toasted crumpets and butter.
Läser du helst morgontidningen eller en roman till frukosten?
I try to avoid the news at breakfast. It starts the day on a depressing note, I find! So I either listen to music or read.
En bra morgonroman, vad kan det vara?
Quite often I lie in bed for a time reading – I do a lot of my reading in bed. It can be anything: I am a critic, so sometimes I will be reading books for review, and sometimes I'll be reading a murder mystery or a classic novel – whatever is to hand.
Vad läser du just nu? 
The Spire by William Golding – it is one of my favourite books and I am re-reading it for the first time in ten years.
Vad använder du som bokmärke?
I don't use a book mark – I fold down the pages!
En viktig avslutande boknördsfråga är förstås hur du sorterar böckerna i hyllan?
My books are arranged into genre sections (fiction, poetry, plays, biography, history, medical history, reference etc), and alphabetically by author within each section.
Klassiskt och bra sortering. Tack för intervjun!